your shoot
As an actor, you live to tell the stories that change people's lives. But first, we start by telling your story. That's what a good headshot is - your story told clearly and authentically.
Photographers are storytellers too. Good photographers listen, observe, and adjust to the person they're working with - the same qualities that make a great actor.
First we'll put on your favorite playlist. Then we'll chat about all of the traits that make you unique as an actor, and target where those qualities fit into the entertainment landscape. Your unique characteristics will inform the clothing options, shooting locations, and lighting techniques we use to tell your story. We get specific so that we can get you into the audition rooms you're perfect for.
Successful photo shoots are collaborations, not dictatorships. Our environment needs to be clear of egos, and filled with patience, humor, and open communication.
I was an actor once. I remember how overwhelming New York felt. One time, a photographer yelled at me for smiling. True story. After acting, I spent six years working at a New York talent agency where I helped guide the careers of new and established actors. I use these experiences to help my clients navigate the process of getting a great headshot and how to thrive as an actor in this crazy city.
It's so rewarding to see a photograph I've taken in a Playbill or in an article featuring one of my clients. Truly, your success is my success.
I look forward to the opportunity of telling your story!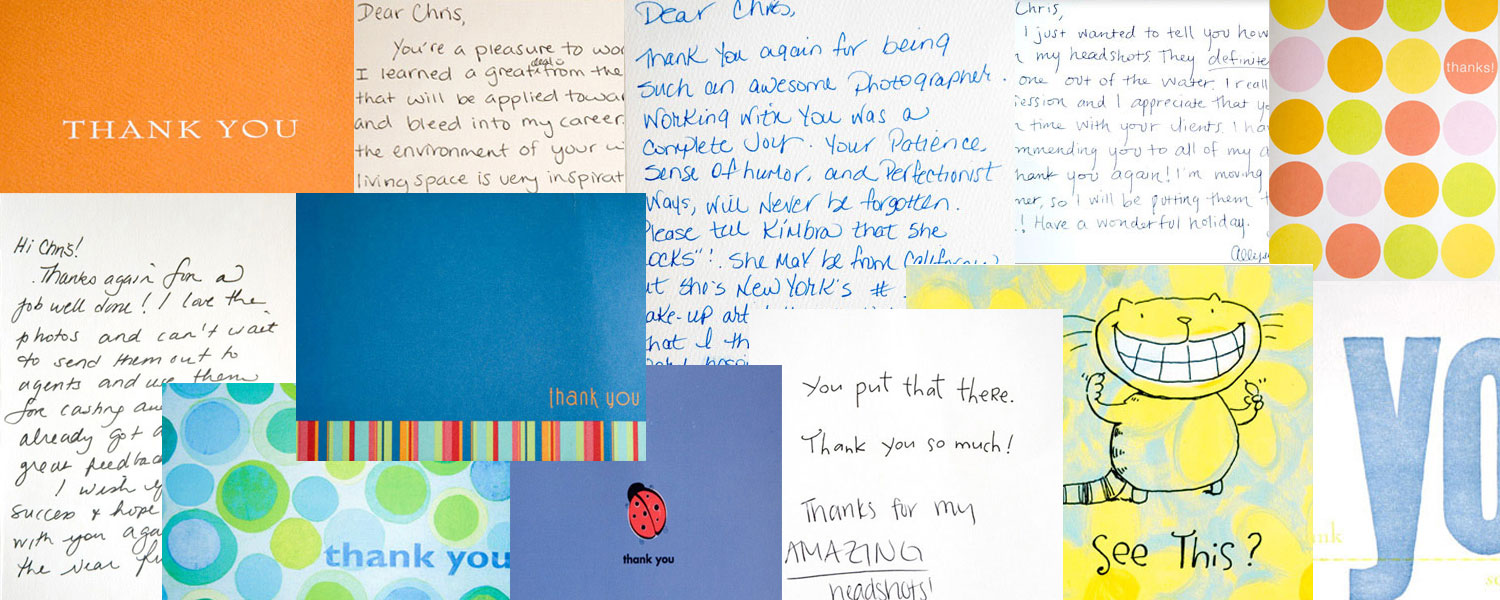 Writing and mailing a card means a lot. Check out this gallery and see what past clients have said about their experience at their shoot.
view gallery
pricing
Two hours of shooting

Your choice of indoor shooting and/or outdoor shooting (weather permitting). We can comfortably accomplish around five looks in two hours.

Two retouched images

I'll personally retouch two high-resolution images of your choosing from your photo shoot.

Pre-shoot prep advice

I'll provide you with a detailed list of what's best to wear and advice on which locations will work best for your goals.

Web gallery, ready the same day

On the night of your shoot, you will get password protected access to all of your high-resolution images. You're able to invite friends, agents, managers, etc. into the gallery for feedback.

Suggested shots

I'll go through all of your images and mark the ones I think will work best for your goals. Ultimately, you get to pick which images are used, but my clients have found it helpful to get my input.

Ego-free photographer guarantee

I'm here to help, not intimidate. From pre-shoot to post-shoot, I'm here to answer questions and guide you through the photo shoot process.
Shoot price: $595

The shoot price includes all of the items listed above. Payment can be made with credit card, Venmo, check, or cash. Discounts are offered for students, groups, and returning clients:

Hair & makeup for women: $195

Fear not! There are no divas on my roster! She's here to make you look like the best version of yourself and will always accommodate any requests you have. She'll stay with us the entire shoot to make sure your hair & makeup stays in top shape from start to finish. To ensure professional results, she is required for all shoots.

Hair & makeup for men: $95-145

If you have good skin, a hair and makeup artist is usually not necessary. If you'd like to have a makeup artist, she charges $95 to come in before your shoot, fix you up, and then leave for the shoot. If you're shaving, you can schedule her to stay for the first-half of the shoot and fix your makeup after you shave for $145.