A headshot is one of the most valuable tools you have as a professional actor. Far too often, talented actors miss out on the critical opportunities that they deserve because of a poor headshot. I spent six years working at a New York talent agency. While there, I learned that headshots are far more than just pretty photos of your face. A headshot is your calling card and what agents and casting directors see first. A strong headshot will help get your foot in the door.

When you arrive, we'll put on your favorite music and chat about what you want to achieve with your new headshots. Often, actors are using headshots that misrepresent the roles they're right for. In the days leading up to your shoot, I'll ask that you think about which productions you're a perfect fit for. We'll go through my portfolio and I'll ask about which photographs you were drawn to. Once we hone in on what your strengths are, we can choose the clothes, lighting, and locations that will compliment your career goals.
A recent client came in and told me that he was targeting shows like Mr. Robot. If you haven't seen the show, it's a dark drama shot in NYC about a hacker. That idea made me think of dark locations and a feeling of being on-the-run. We ended up shooting underground in the subway and created an image that could easily be a production photograph from that show. That type of shot isn't right for everyone, but it shows how a little research can lead to a compelling photograph that can help get you into the casting rooms of the projects you're right for.
You're unique as an actor and should never be boxed into a narrow trademark style of a photographer. If you've done some research, you've seen the portfolios filled with actors standing against the same backdrop. When looking through my portfolio, you'll notice a wide variety of locations, lighting, and moods. It's important to look for versatility when searching for a photographer. A photographer should be able to adapt to the actor.
<
>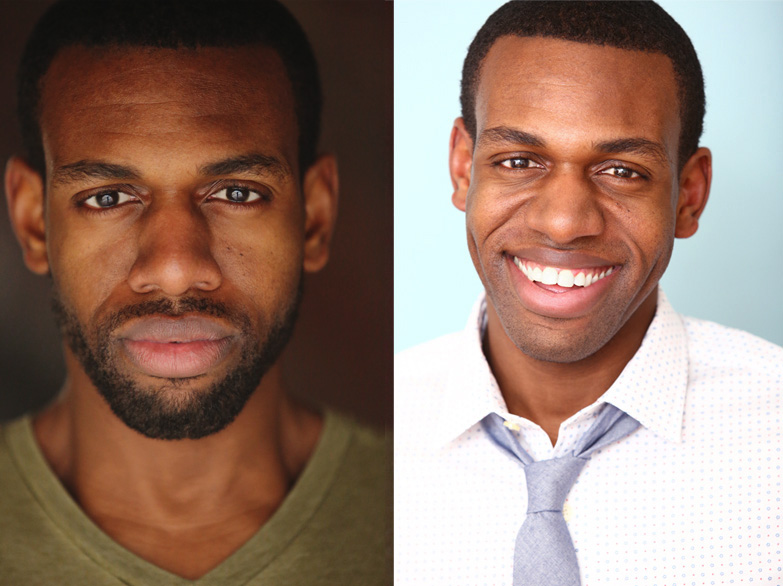 A dramatic shot (left) and commercial shot (right).
When I was a young actor, my first photographer rushed me through our shoot. When I became a photographer, I decided to never schedule more than one actor a day. It's obvious why photographers schedule lots of actors -- there's more money to be made. I never want anyone I work with to feel like they're just a number on a conveyor belt.
I want your headshot experience to be as simple and stress-free as possible. If you're like most actors, you spend your days surrounded by the madness of Midtown Manhattan. I shot in that neighborhood for a several years, but then decided to relocate to the Upper West Side next to Central Park. This area is far less crowded and helps everyone ease out of the stress of a typical day-in-the-life of an actor.
"The atmosphere was very relaxed, very friendly. Chris made you feel like you had known him for years. Everyone seems to agree that my photo is a good reflection of not only what I look like, but who I am."
-Dolan Byrnes from the Backstage article "Picture Yourself Working: Getting the Headshot That's Right for You"
As we shoot, I'll show you previews of the images just to make sure you like how everything looks. Sometimes you think you'll love a shirt, but change your mind after seeing it on camera. It happens. That's why I want you involved in the process. The rest of the time I'll be watching out for all of the little habits actors have -- forehead tension, mouth tension, overactive eyebrows, not breathing. I'll pick on you a little, but you'll thank me later.
Many studios take days or weeks to get your photographs to you -- often a symptom of taking on too many clients. With me, I upload all of your high resolution photographs the same day. You'll receive an email on the night of your shoot with a link to a password protected gallery. I built the system myself from the ground up. Once inside, you'll see that I've marked all of my favorite images. You can go through and "like" all of your favorites, then you can invite your friends and colleagues to like their favorites.
"Chris is calm, caring, and creative. I consider those 3 C's to count for a whole lot in a headshot photographer!"
- Jenn Gambatese (Broadway's School of Rock, Tarzan, All Shook Up, Hairspray)
Once you've chosen your final images, you'll want to have them retouched. I include two retouches with all of my shoots. You need at least two headshots to get started -- one friendly shot (often called "commercial") and one dramatic shot (often called "legit"). If you want me to retouch additional images, they're available for an additional fee of $35 each or you can have one of the local headshot labs retouch them. Once they're retouched, I'll upload them to your gallery where you can save and share them.
All throughout the process, you can email me with any questions and I'm happy to help. Scroll down to view all of my pricing information, frequently asked questions, and to view my online calendar where you can book a shoot day. I look forward to working with you!