T
here are a couple of things you should consider when starting off as an actor. First, it's important to understand that building a career in acting is a long-term commitment. At this point, a degree from a four year acting school is almost a prerequisite to be taken seriously. A growing number of actors are completing MFA programs in acting. Think about that for a minute. Seven years or more of school just to get started as an actor. While there are plenty of examples of successful actors without degrees, it's important to understand how seriously actors take their careers.
Many people are tempted to get into this industry at the prospect of fame or money. Very few people are getting paid large salaries to act, even less "make it big." Be sure you're getting into this profession because you love it.
I
've watched many actors arrive in New York bright eyed only to jump ship a year-or-so later. Part of this traces back to their schools, largely focused on pushing you out the door and hoping you book a gig immediately. Very little emphasis is placed on how to survive in the city over a long period of time and not burn out. The biggest contributing factor, that you have control over, is your survival job. I posted an article on my blog about how computer programming is a great survival job for actors (see
"An Awesome Actor Survival Job That Nobody's Talking About"
). Programming is not for everyone, but I'd suggest reading over all of the reasons that I think make it an ideal job.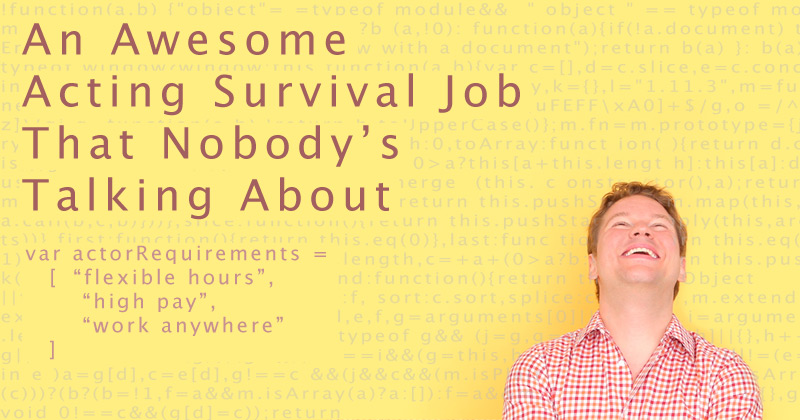 T
he question is not whether or not to get training, it's a question where. The choice of school will depend on how far along you are in your career, how much time and money you can commit, and what type of career you want to pursue. Four year colleges usually offer BFA programs in acting (often with a focus on theater training) or musical theater. The problem with college programs is that they're expensive. Some are hovering around $70,000 per year. It's offensive and unethical. You don't want to start your career buried in nearly $300,000.00 of debt. It's not difficult to find the highest ranked acting schools by searching the internet. Sadly, the top schools are also the most expensive. There's always the potential that you'll qualify for a scholarship, financial aid, or that you have a rich aunt.
Don't fret if the top schools do not work out. There are many public colleges with decent acting programs. Additionally, there are many independent studios that offer high quality training for a fraction of the price. One of my favorites is
The William Esper Studio
.
W
hen are you ready for an agent? Actors usually start working with agents after graduating from a college level acting program or after they have gained some momentum on their own (booking paying jobs). Most agents are based out of New York, Los Angeles, Chicago, and Miami. They may be useful in other regions for local print work and commercials. It's important to understand that agents work for you, yet only make money if you get work. It's a two way street.
T
here are different types of agents. Commercial agents work on television commercials. Legit agents work on theater, film, and TV projects. Voice over agents work on voice over projects (think animation voices and radio commercials). Modeling agents work on print/runway world. There are also franchised agents and non-franchised agents. A franchised agency is one that is licensed by a union to represent its actors. Franchised agents are guided by strict regulations set by the unions. For example, the agent can not take more than 10% of your salary, they can not sell you services (like classes or headshots), they have to be open between certain hours. Franchised agents will occasionally work with non-union actors in hopes that they will book a union job. Non-franchised agents and managers are not regulated by the unions. Some states have regulations that may offer a little protection. Ideally, you want to work with a franchised agent. If you're already a member of a union, you're only allowed to work with franchised agents.
T
here's an online service called The Call Sheet. Next to the name of every agency, you may see the letters A E S Each letter represents the union that the agent has a franchise agreement with. A stands for AFTRA, E stands for Equity, and S stands for SAG.
T
here are a few ways you can get an agent. The most effective way is by being seen by the agent in a show. This way the agent can get to see your work first hand and (ideally) get excited about what they see. If they like your work, they will want to send you out on auditions. Even if you do not book the first few auditions they send you out on, they will remember your work and hopefully keep trying. If an agent starts working with you without having seen your work, you might be on shaky ground if you do not book work right away. The only thing they have to go on is the feedback that they're getting from casting directors. The next best way is through a referral by a friend who's with the agency. If your friend gives a glowing recommendation, you will usually land an interview. Finally, you can submit your photo and resume though the mail. It will probably go in the trash. The volume of mail an agency receives on any given day can be overwhelming.
B
eware of anyone who asks for money (before you book a job), says that you have to pay for classes, or get new photos from a specific photographer. Keep in mind that an agent has every right to suggest you that you take a class or suggest you get new photos. You might need it. Just beware of one that says you have to take a specific class or go to a specific photographer in order to work with them. No legitimate agent or casting director will ever ask you to take of any clothes at an audition. If it happens, leave! Quickly!
Make sure that your agent has a way to get in touch with you during the day. At my old agency, a casting director would call at 6:30pm (when technically, we were closed) and ask to see "John Doe" the actor at 10am the next day. If I could not get a hold of the actor right away, they would miss the audition. If this happens with the same actor on a regular basis, the agent will stop working as hard for them. They will not have a problem finding someone else who answers their phone. You might be surprised how many times I got a call a week later from "John Doe" the actor to say how sorry they were because they had not checked their messages. An entire process transpired before your agent calls you. We see a character you would be right for, type up a submission, and submit your photo/resume. The ball is rolling. Time and money is being spent on you. Then, not long after, we get the call asking to see you. Up until this point, you are unaware of what's happening. It's very frustrating to do all this work for you and then have you miss the audition over something as simple as not getting a message.
A
ctors Equity Association (AEA, or sometimes just called Equity) covers Broadway productions and some regional theater productions. In 2012, SAG (The Screen Actors Guild) and AFTRA (The American Federation of Television and Radio Artists) merged to form SAG/AFTRA. They cover many films, on-camera commercials, and voice over work.
C
hoosing to join a union can be a difficult decision. On one hand, as a member, you will have a union watching over and protecting you from producers and agents. On the other hand, once you join, you're not allowed to work on non-union projects. Why is that a problem? Often smaller non-union projects are easier to book and a great way to gain experience. If you're being offered a role on Broadway or a role in a major feature film, there's no question what you should do. Often times, the decision is not that obvious. Do you have more competition in the non-union world or the union world? For theater, if you're a member of Equity, you get scheduling priority at auditions. Being a member of SAG/AFTRA does not really guarantee any auditions (most of those are procured by an agent). However, once you actually book a film or commercial, the differences between a SAG/AFTRA contract and non-union contract can be staggering (money, residuals, hours, etc.).
Y
ou have to be offered a role in a union production. It's a bit easier for theater folks to break through since many auditions are held as open calls. If an Equity member does not show up for their audition, and there is not another union member waiting to take their spot, a non-union actor will usually be seen. For film/TV work, it's much more difficult to break through without having an agent or knowing a casting director.